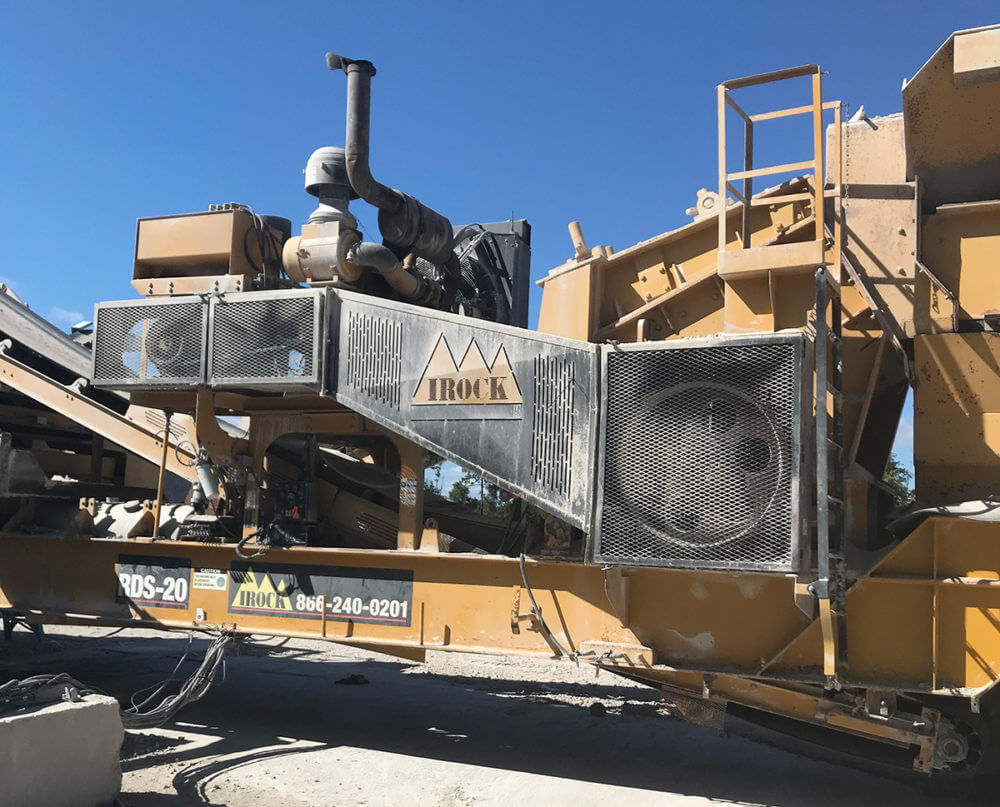 Onsite Concrete Crushing, a family-owned and operated concrete recycling company that services Northeast Florida has steadily grown its business using IROCK RDS-15 and RDS-20 portable impact crushers.
In 2003, Kyle Petty, now Owner/Operator of Onsite Concrete Crushing, along with his family formed Hard Rock Materials, a ready-mix concrete company that provides concrete to the Northeast Florida market including the Jacksonville metro area.
Hard Rock Materials soon faced what all concrete producers eventually face when manufacturing concrete; an overflow of wet concrete material that must be removed from the plant and trucks and the race against time before it hardens. This material is placed in the plant's yard and set to cure. From there, it is broken-up into sizable pieces then crushed and used in various applications such as road base.
For six years Hard Rock Materials hired a crushing contractor to process the overabundance of concrete until they reached a point where they had an opportunity to crush it themselves. In 2010, The Petty family formed Onsite Concrete Crushing and purchased an IROCK RDS-15 portable impact plant to process the excess concrete. The family also saw the need to assist local demolition contractors with their concrete demolition materials and began accepting their concrete for processing.
"The IROCK RDS-15 was our first crusher and got us started in the business," says Petty. "We really like the double deck screen, conveyor system, and impact crusher. It was a great crusher."
Within just a few years Onsite experienced steady growth and found themselves needing to up-size their crusher. "We needed something bigger as our business was taking in more concrete to process," says Petty. "Because we had great success with the RDS-15, we eventually purchased the RDS-20, which meet our needs for a larger screen, more horsepower, and portability so we could move it around to our locations."
IROCK's RDS-20 is powered by a Cat® C13 ACERT diesel engine that boasts 440-horsepower, giving the plant its muscle to crush and screen materials such as concrete, asphalt, rock, gravel, and slag.
The 16'x5' double deck screen on the RDS-20 allows Onsite to create 3 products at once; number 57 size gravel, paver base, and road base. This gives Onsite the ability to provide a sellable product to contractors, counties, and municipalities for their construction projects and homeowners a material ideal for driveways.
"Another nice feature is the magnet," says Petty. "The concrete material that arrives at our locations will have rebar and other iron in it. We'll prep the material before putting it through the crusher, but you can't get all of the iron out. The magnet will pull all of the iron even the little nails," continues Petty.
Onsite and Hard Rock Materials now have a total of 4 locations. Portability and quick setup time are a must in order to meet the heavy crushing demands. "It's very easy to move from location to location and only takes a few hours to set up," says Petty. "Even though it only takes a few hours to set up, we give ourselves a full day to ensure the plant is level before crushing as we crush every day and do not want to stop production."
Crushing every day and keeping the plant running smoothly takes a real commitment to maintenance. "We handle all of our plant maintenance from greasing to replacing parts. IROCK makes it very easy to service the machine. When we do need a part that we don't have onsite we call Jason at IROCK and he gets us exactly what we need fast. He's excellent."
"If we ever need technical assistance, we call Howie at IROCK. He knows these machines down to the fuse and can resolve the issue with us quickly," continues Petty.
Exceptional customer service is something the Petty family looks for when selecting their vendor/supplier partners and IROCK does not disappoint. "John Patton our IROCK rep is fantastic at staying on top of our relationship with clear communication, consistent follow-up and making sure we are running efficiently," says Petty.
The Petty family is forecasting continued growth for Onsite and already thinking about the next piece of equipment. "We've owned two IROCK crushers and I would like a third," says Petty.
For more information on Onsite Concrete Crushing, please call (904) 540-6689.