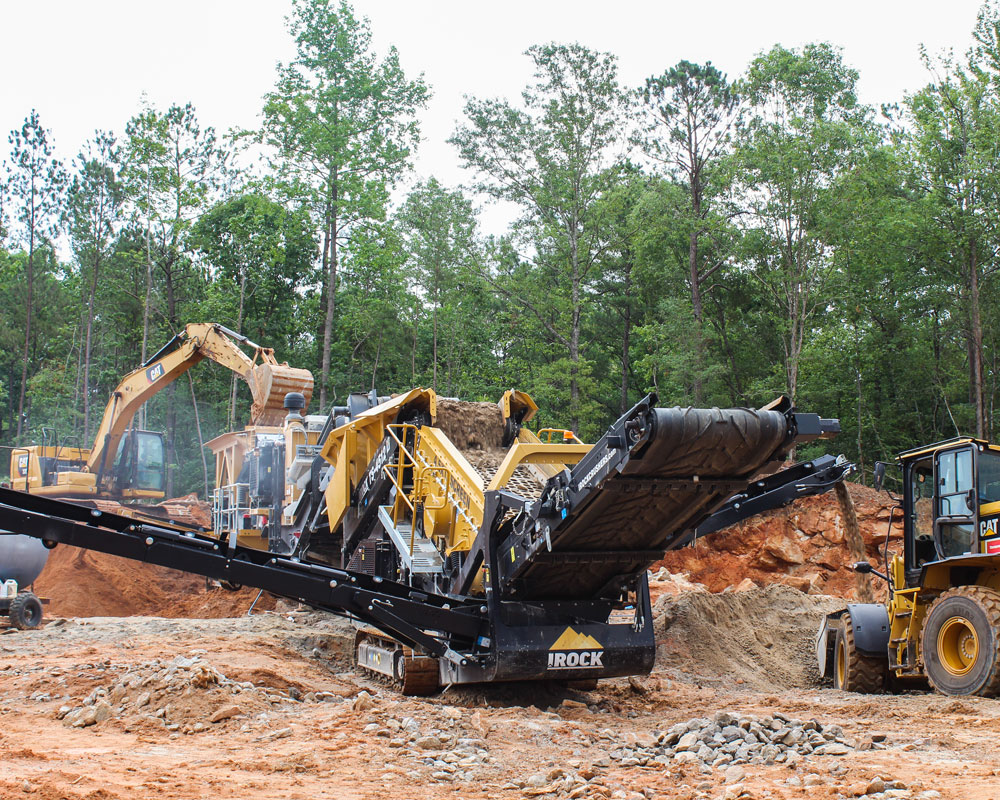 Thompson Tractor Company, an IROCK Crushers dealer based in Alabama, opened its doors in 1957 and since then, the company has grown in the industry by focusing on the quality of products they carry, opening numerous locations in various territories, and remaining committed to their customers beyond the initial sale of their machines. 
Thompson Tractor's partnership with IROCK, which began in 2017, exemplifies this promise of premier service. When asked about this partnership, Derick Freeman, a Sales Rep. with Thompson related that "It's good for the customer because we're able to be their one-stop-shop, taking on those crushing and screening opportunities with experts in the field." 
Tallapoosa River Construction, located in Auburn, Alabama, has been one of Thompson's customers for over two decades, so when this customer found themselves in need of crushing and screening equipment, Thompson was quick to recommend IROCK's TC-20 Impact Crusher and TS-4512 Scalping Screen. 
Originally, Tallapoosa River Construction was facing an issue that many construction operations face; they were accumulating a large amount of blasted stone while creating a new subdivision. In this case, the logical solution was to use the stone to create their own base material for the subdivision's 1,800-foot road. But creating this roadway base would require them to first crush their surplus rock, so Tallapoosa reached out to Thompson for assistance in finding machines that would offer ease of operation and a quick learning period. 
Alex Hapgood, Thompson's Crushing and Screening Specialist described how once the client contacted him and he'd analyzed their situation, he was quick to recommend IROCK's TC-20 and TS-4512. Hapgood knew these machines were "simple to operate, they don't require a rocket scientist to run, they're remote-controlled to move, and ultimately, they're safe." He went on to say, "the TC-20 and the TS-4512 were our ultimate choices because of their size and production rates. They were easy to learn, easy to train on, and they seemed the most suitable for their project and timeline. These machines just made sense."  
When asked about his experience with IROCK's machines, the client, Shane Davis, said that as a first-time user of crushing and screening equipment, "I wasn't too excited about the learning curve. But now that I've crossed that bridge, IROCK makes it easy for guys like me to crush and screen rock. Their equipment is great. We had things running in a heartbeat. The machine crushed everything we fed into it."  
Davis also emphasized that even though every construction site has inevitable breakdowns and other obstacles to face on a daily basis, the TC-20 and TS-4512 continued to work great. 
Like in Tallapoosa's case, Thompson maintains relationships with all of its customers to ensure that equipment repairs and maintenance are met with fast service. Hapgood explains that "with crushing and screening, just like anything else in the earth-moving industry, you're going to have parts that break—it's going to happen." 
The key to navigating these obstacles, Hapgood adds, is having a reliable source of parts. He highlights how IROCK understands the customer's urgency. "They know the kind of pressure we're under. They get the job done on our timeline. So anytime that we don't have a certain part in stock, I can make a phone call and within two or three days, we have the part and we're getting the customer's equipment back up and running, if not sooner than that." 
IROCK prioritizes its relationships with dealers and end-users because it is this synergy between them that promises premier service and support that lasts throughout a machine's lifetime. In the case of Tallapoosa River Construction, the synergy between IROCK and Thompson guaranteed success for all parties. Despite not having prior experience in crushing rock, Tallapoosa saw optimal results with IROCK's TC-20 and TS-4512. Davis recounted that after receiving IROCK's crusher and screener, they were able to take their blasted rock and produce their own 8-25 base for the roadway, all on their timeline and without much downtime. In his words, "The rest was history."
To this day, Thompson Tractor continues to partner with IROCK Crushers to provide premier crushing, screening, and conveying equipment. As Hapgood states, "Time is money, and IROCK understands this. Whatever we need, IROCK is there to help. They've come through every time we've ever needed anything." Because IROCK's machines are user-friendly, easy to operate, and designed with safety as their first priority, customers are promised optimal results no matter their industry or prior experience. 
To learn more about Thompson Tractor, visit their website at https://thompsontractor.com/ or call (800) 547-0760. For more information on IROCK Crushers or to get in touch with their team, visit https://irockcrushers.com/.